The subject of UFOs/UAP has been much in the news recently. The government has made an astonishing U-turn in what has been its debunking attitude toward the phenomenon. Very recently an amazing surge of institutional interest in UFOs has taken place.
My most recent publication on Disclosure was the cover article in the MUFON Journal: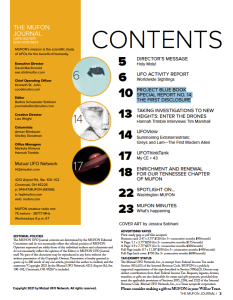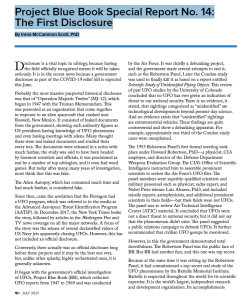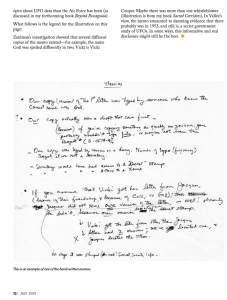 I have worked for the Defense Intelligence Agency in an Air Order of Battle section, which involved identifying foreign flying objects. I had an above Top Secret clearance, SCI, that has been in the news recently in regard to Trump.
I have worked for Battelle Memorial Institution, and known those involved in its work for Project Blue Book.
I have been in the secured area of Wright-Patterson AFB and even in the Blue Room building, where I attended a meeting about UFOs.
This information is included in my books, such as:
UFOs TODAY 70 Years of Lies, Disinformation, and Government Cover-Up, published by Flying Disk Press, MUFON Books, in German by NIBE VERLAG, and in Russian by Stigmarion
Sacred Corridors Secrets Behind the Real Project Blue Book, Wright-Patterson AFB, Roswell, Battelle, Memory Metal, Dr. J. Allen Hynek & UFO Cover-Ups, published by Flying Disk Press.
THE AUTHOR MADE INTENSIVE INVESTIGATION OF BATTELLE'S UFO STUDY AND ITS WORK ON MEMORY METAL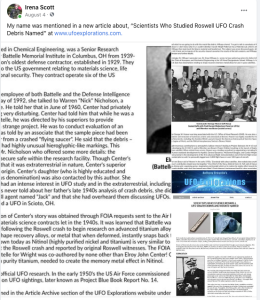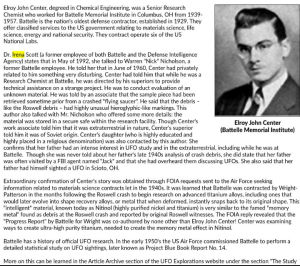 GOOGLE INSTANTLY FOUND NEARLY A MILLION VIEWS ON THE SUBJECT OF THE AUTHOR'S INVESTIGATION OF MEMORY METAL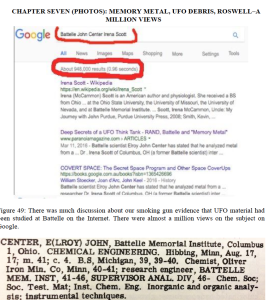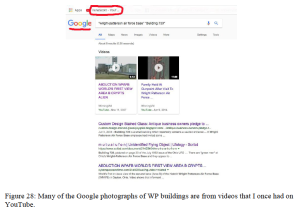 Although in the years prior, the government has staunchly claimed that no such phenomena existed; in 2021 it reported that it couldn't explain 143 of the 144 sightings it examined.
The Office of the Director of National Intelligence, announced the unclassified results of this study, Preliminary Assessment: Unidentified Aerial Phenomena in June of 2021.[i]
This was the first such admission since Project Sign in the 1940s. In addition, NASA funded a UFO study just months after Congress ordered the Pentagon to set up a UFO office and produce annual reports.[ii] Not only that, but Congress held public hearinsg on UFOs for the first time in fifty years.[iii] Senator Gillibrand thinks that the DoD should implement these important provisions.[iv] Deputy Defense Secretary Kathleen Hicks directed the creation of an Airborne Object Identification and Management Synchronization Group to oversee this effort and to establish the permanent UFO office required by Congress.[v]
The New York Times published an important article, Glowing Auras and 'Black Money': The Pentagon's Mysterious U.F.O. Program.[vi]
[i] https://www.dni.gov/files/ODNI/documents/assessments/Prelimary-Assessment-UAP-20210625.pdf.
[ii] https://www.nasa.gov/feature/nasa-to-set-up-independent-study-on-unidentified-aerial-phenomena/.
[iii] https://www.cnn.com/2022/05/10/politics/ufo-hearing-house-intelligence-committee/index.html.
[iv] https://www.politico.com/news/2021/11/17/this-is-urgent-bipartisan-proposal-for-ufo-office-pushes-new-boundaries-522845.
[v] https://media.defense.gov/2021/Nov/23/2002898596/-1/-1/0/ESTABLISHMENT-OF-THE-AIRBORNE-OBJECT-IDENTIFICATION-AND-MANAGEMENT-SYNCHRONIZATION-GROUP.PDF.
[vi] https://www.nytimes.com/2017/12/16/us/politics/pentagon-program-ufo-harry-reid.html