JOHN PURDUE
Purdue University founder and founder of many other institutions and companies.

---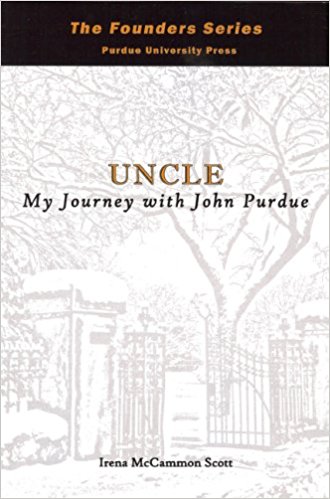 Uncle My Journey with John Purdue
The first of the Founders Series from the Purdue University Press
In the most comprehensive biographical study of John Purdue (c. 1802-1876) to date, Purdue's great-great-grandniece describes her travels to the diverse places where Purdue had lived in order to learn about the mysterious relative known in her family as Uncle.
Using fresh, unpublished source materials-including Purdue's personal correspondence, business ledgers, and the family oral histories-the author examines Purdue's beginning among illiterate, immigrant, Pennsylvania mountain-hollow folks.
Uncle challenges a commonly held belief that Purdue was a cold-hearted business mogul. Instead the author shows Purdue as a human being and as a generous family man with a visionary nature.
Available Now on Amazon.com
Series: Founders
Paperback: 248 pages
Publisher: Purdue University Press (September 1, 2007)
Language: English
ISBN-10: 1557534586
ISBN-13: 978-1557534583
Product Dimensions: 6 x 0.6 x 9 inches
Shipping Weight: 9.6 ounces
Upon the death of our related Crippen family members, my family found much material about John Purdue in the belongings. My mother and I began to do research and discovered that he was the founder of Purdue University and that we were descended from the Purdue family. My mother wrote a Purdue genealogy and I wrote a biography of John Purdue that was published by the Purdue Univesity Press. It was the first of the founder's series.
Lectures and other activities at Purdue University (Uncle: My Journey with John Purdue Irena McCammon Scott)

Dedication of the John Purdue Statue
 "A new John Purdue bronze statue was dedicated Sunday morning… Speeches were given by former Purdue president France A. Córdova, the president of the Iron Key Club, and Irena Scott, the great-great-grandniece of John Purdue."

Dedication of the John Purdue Statue (Purdue University)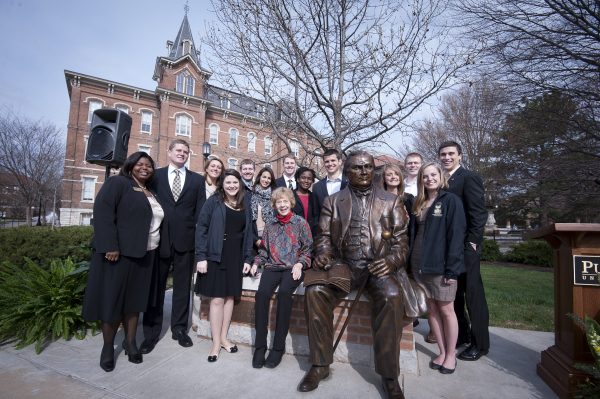 Articles in the World's top newspapers:

World News article
A quote from "Uncle: My Journey with John Purdue" is on the plaque on the statue foundation.
"For John Purdue, education was the flame that lit the world."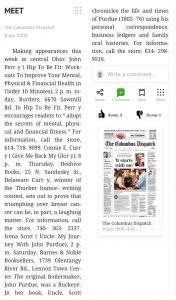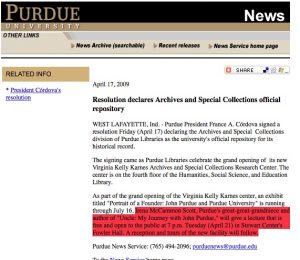 Purdue University is normally listed as one of the  World's Best Universities, e.g.:
"60 th Purdue University … [38th in U.S.]
Purdue University(West Lafayette, IN, USA)
Purdue is #60 in "The 100 Best Universities in the World!"
John Purdue founded many additional institutions and organizations
Purdue also had a part in founding an old family farm, which is now a public park, McCammon Creek Park and contains the Ohio Bicentennial Barn for Delaware County

On numerous radio networks
---