Books
---
INVITED SPEAKING ENGAGEMENTS:
IRENA SCOTT ON COAST TO COAST BROADCAST (2023.08.19) WITH GEORGE KNAPP AND PHILIP MANTLE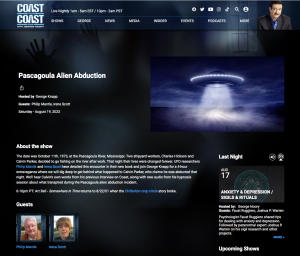 IRENA SCOTT ON COAST TO COAST BROADCAST (2018.06,09)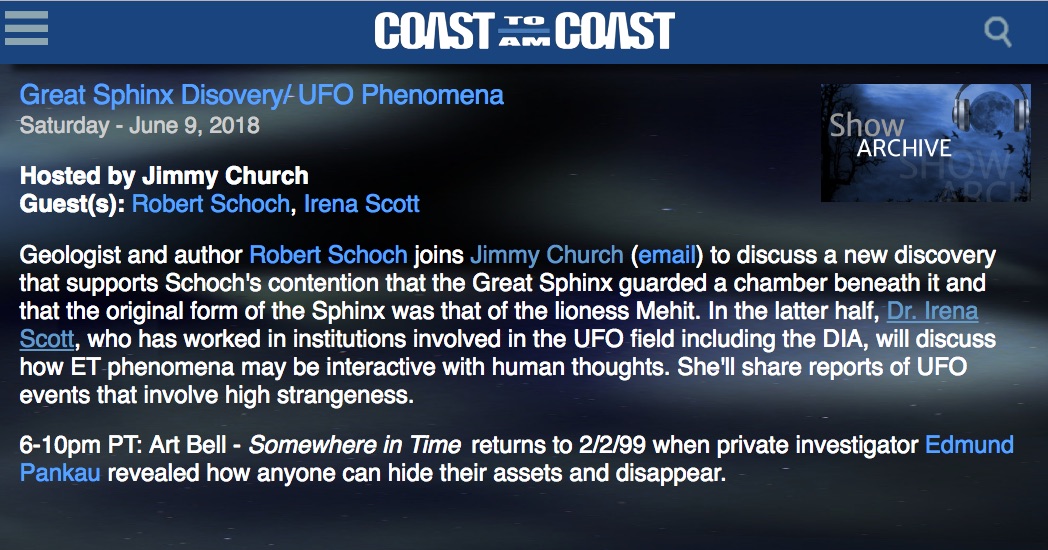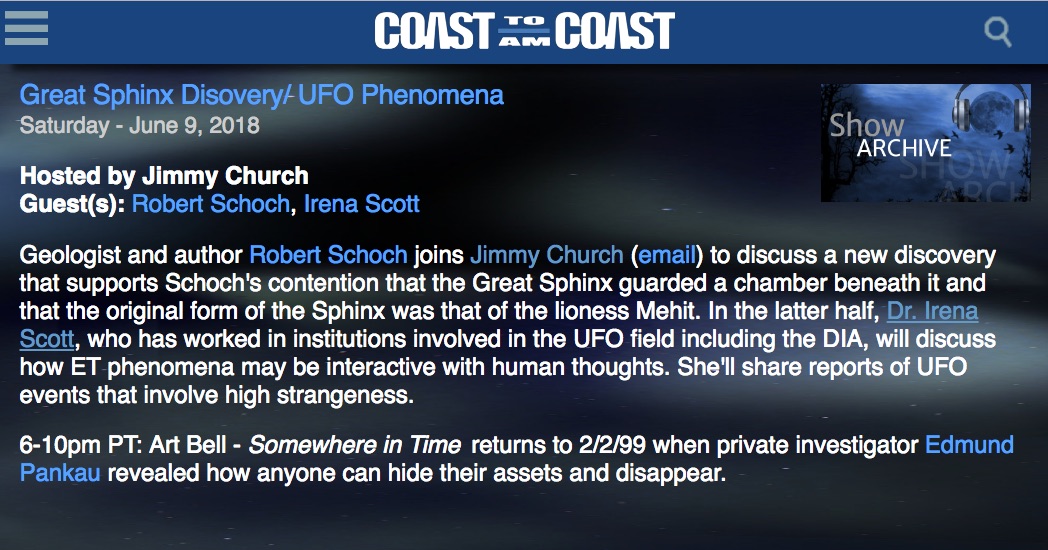 FEATURED SPEAKER 2019 INTERNATIONAL MUFON SYMPOSIUM GOLDEN ANNIVERSARY
---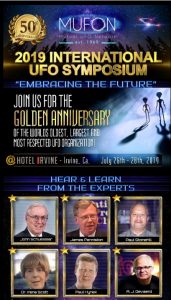 IRENA SCOTT ON COAST TO COAST BROADCAST (2021.12.12)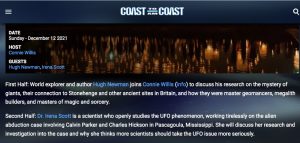 KEYNOTE SPEAKER 2022
5th Symposium on UFOlogy and Exobiology
INTERNATIONAL SYMPOSIUM
IN BRAZIL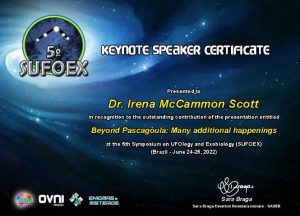 FEATURED SPEAKER MCMENAMIN 22 ANNUAL UFO FESTIVAL, OREGON
MAY 12-14, 2022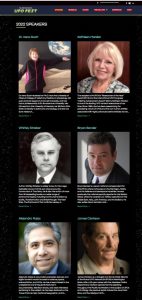 FEATURED SPEAKER 2023
UFOCON
SAN FRANCISCO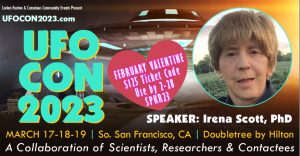 FEATURED SPEAKER 2022
UFO MEGA CONFERENCE
LAS VEGAS MARCH 19-27 (Cancelled Covid)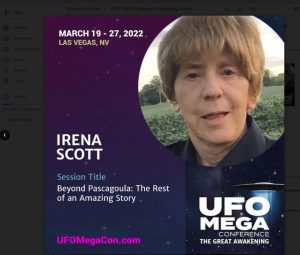 MEANWHILE, HERE ON EARTH
Peter Robins 2021.12. 06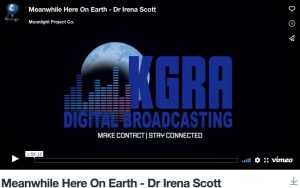 Invited Panel Memberships such as:


IRENA SCOTT ON NBC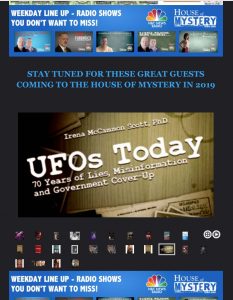 IRENA SCOTT ON SHIRLEY MACLAINE.COM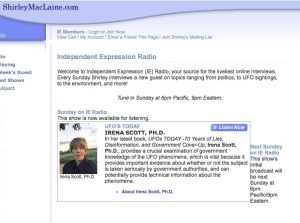 Invited Speaker for Phoenix MUFON and many additional state chapters, such as California MUFON.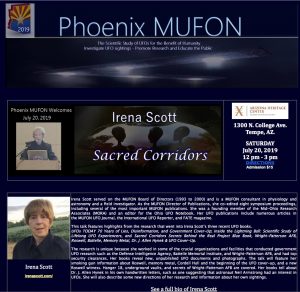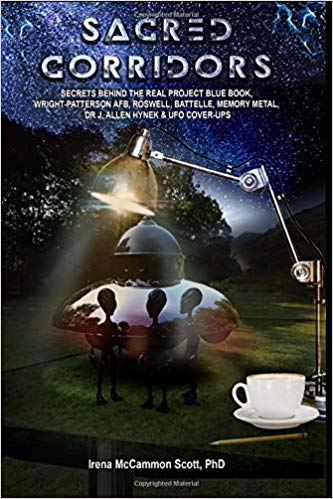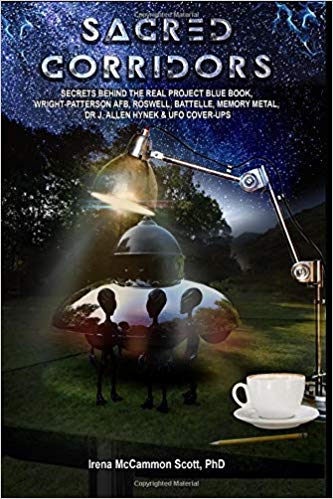 Dr. Scott has actually walked down the sacred corridors and hidden passageways where UFO studies took place, when she worked in several crucial UFO investigatory agencies. This inside information contains real documents, not the usual 'informants' stories and legends.
It includes hidden studies showing that UFOs really exist, interviews with researchers, taking photographs, obtaining documents, leaked information, informants, and much else.
Paperback: 299 pages
Publisher: Independently published (December 21, 2018)
Language: English
ISBN-10: 1791660681
ISBN-13: 978-1791660680
Product Dimensions: 6 x 0.7 x 9 inches
Shipping Weight: 1.1 pounds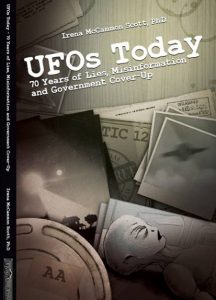 UFOs TODAY
70 Years of Lies, Disinformation, and Government Cover-Up.  Published by Flying Disk Press & MUFON Books
UFOs TODAY -70 Years of Lies, Disinformation, and Government Cover-Up is generally presented in chronological order, beginning with indications that the government knew something about UFO phenomena before the Kenneth Arnold event in 1947, which is generally considered the beginning of modern day UFOlogy.
The work is new and different because it focuses upon the importance of government research into this subject, whereupon most such research has centered on the investigation of witnesses and of the sites of UFO sightings.
What makes it truly unique and valuable is that several of the investigators have not only probed the organizations where the research on UFOs has been conducted, but have also worked in many of the most crucial institutions involved in the UFO field. This includes work at Wright-Patterson Air Force Base, Battelle Memorial Institute, and the Defense Intelligence Agency, DIA. Thus, unlike the few others that have done this kind of research, these researchers have had an inside tract to understanding the organizations, the researchers, and the results of the studies. Examination of government knowledge of the UFO phenomena is vital because it provides important evidence about whether the subject is taken seriously by government authorities, and can potentially provide technical information about the phenomena.
It also covers the complexity of the phenomena, which has contributed to the difficulty and controversy in conducting this field of research.
The research has also resulted in a several smoking gun revelations
This book also features new information about the Roswell event. This man's unique testimony will be published here for the first time. It was from a former US Deputy Sheriff who was an alleged witness to the UFO crash at Roswell in 1947.
UFOs TODAY is like no other book on the UFO subject as it comes from an academic who worked behind the scenes at a number of locations and witnessed a portion of the official cover-up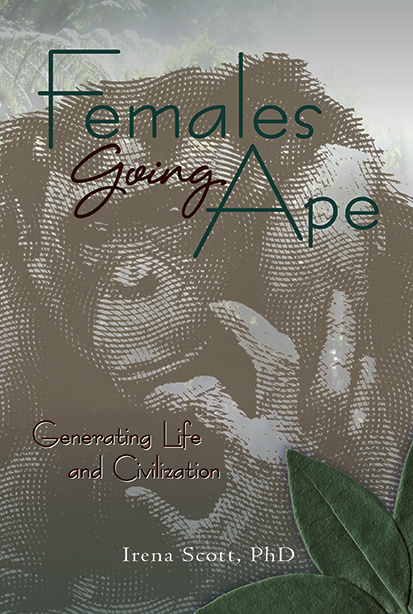 Females Going Ape
Generating Life and Civilization
This book shows the female as the principal actor in both the advancement and evolution of earth's organisms. Scott shows the female is earth's principal life form, and that the male developed later in evolution. Females survive better than males, most organisms are female, most can reproduce without a male, and they are the natural leaders and innovators.
Paperback: 287 pages
Publisher: Orange Frazer Pr (October 26, 2015)
Language: English
ISBN-10: 1939710332
ISBN-13: 978-1939710338
Product Dimensions: 8.4 x 5.8 x 0.7 inches
Shipping Weight: 12.6 ounces
---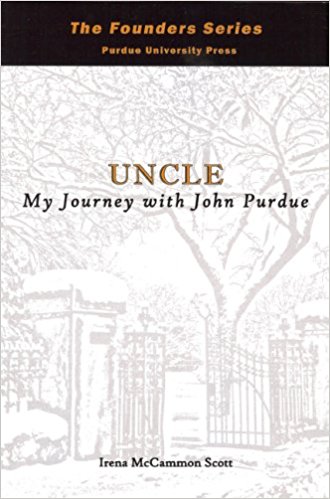 Uncle My Journey with John Purdue
The first of the Founders Series from the Purdue University Press
In the most comprehensive biographical study of John Purdue (c. 1802-1876) to date, Purdue's great-great-grandniece describes her travels to the diverse places where Purdue had lived in order to learn about the mysterious relative known in her family as Uncle.
Using fresh, unpublished source materials-including Purdue's personal correspondence, business ledgers, and the family oral histories-the author examines Purdue's beginning among illiterate, immigrant, Pennsylvania mountain-hollow folks.
Uncle challenges a commonly held belief that Purdue was a cold-hearted business mogul. Instead the author shows Purdue as a human being and as a generous family man with a visionary nature.
Available Now on Amazon.com
Series: Founders
Paperback: 248 pages
Publisher: Purdue University Press (September 1, 2007)
Language: English
ISBN-10: 1557534586
ISBN-13: 978-1557534583
Product Dimensions: 6 x 0.6 x 9 inches
Shipping Weight: 9.6 ounces
---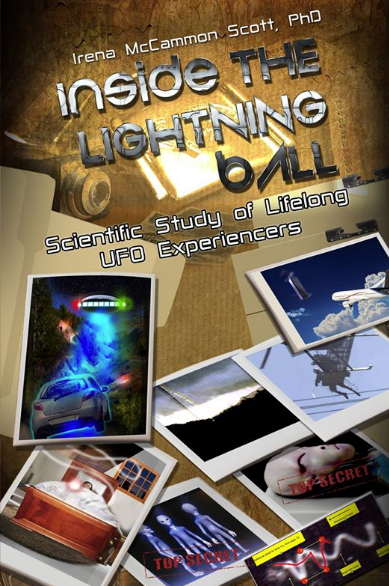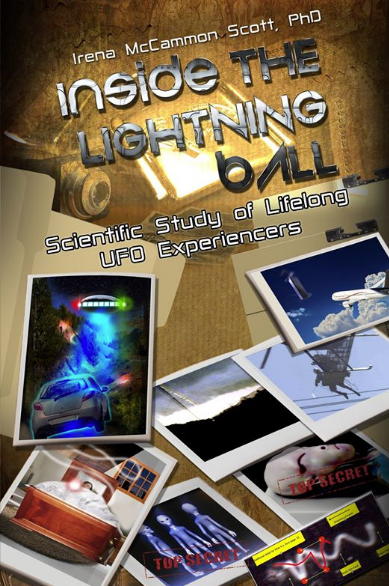 Inside the Lightning Ball
This book invalidates the idea that UFO phenomena are unacceptable to science-the main argument against
acceptance of UFO phenomena. It includes many examples of scientist's sightings, activities, and a scientific study proving the phenomena exists.
It also includes peer-reviewed UFO publications. I have had a number accepted by and published in well-recognized scientific journals and may be the only one to do this.
It also includes my own experiences as a scientist. These are well documented from an early time and have been studied by several foremost UFOlogists and scientists. The objects have remained unidentified. It also includes scientific analysis of material providing information about how UFOs work. Some photography is included that was made and published before the digital age. It contains additional hard evidence. And because I worked for a number of government organizations and held high clearances, it also contains inside information.
Interviews – Dr. Irena Scott
Shirley MacLaine – is an internationally known film, television and theater actress, singer, dancer, activist, author and winner of numerous top awards.

Whitley Strieber–an internationally known best selling author (e.g., Communion), with film and TV adaptions of his work, and has the Unknown Country web site, and Internet podcast, Dreamland.

MUFON of Ohio Party and Book Signing: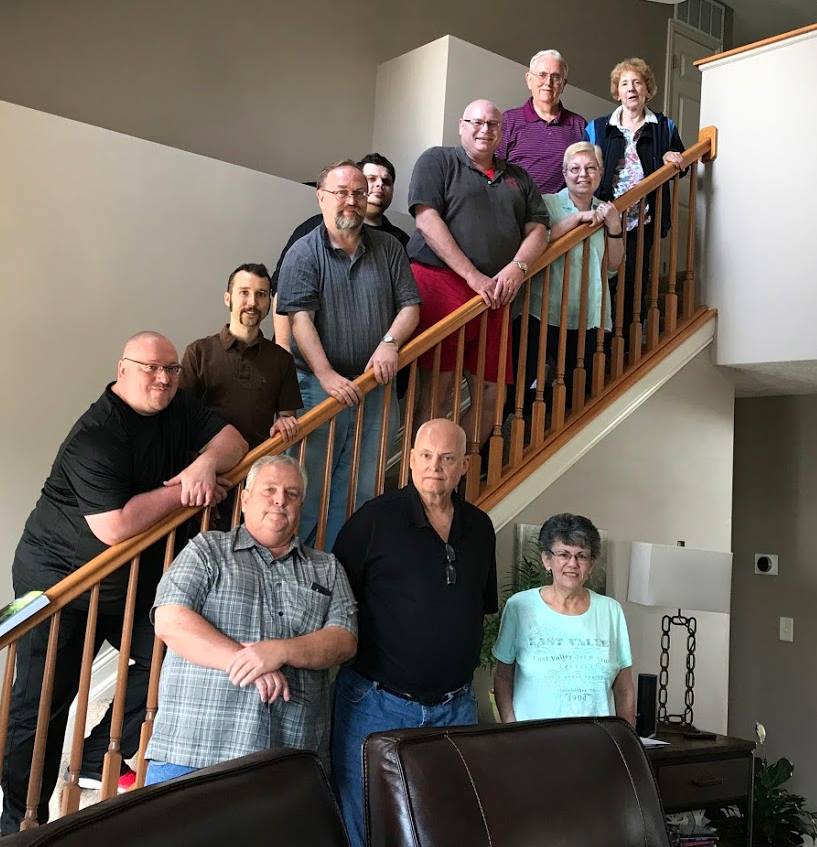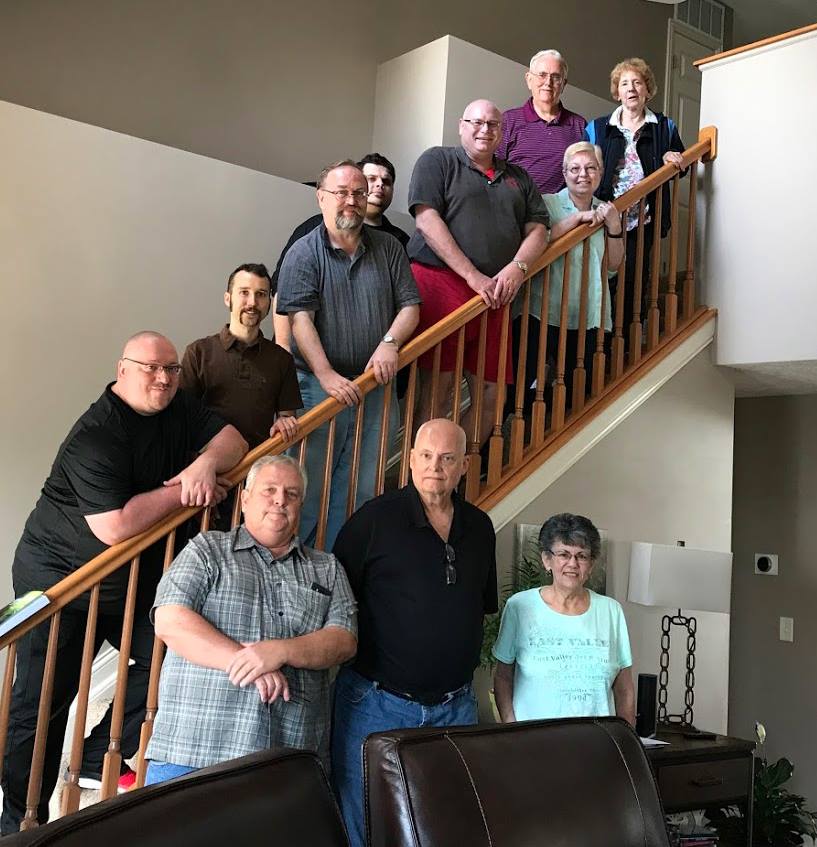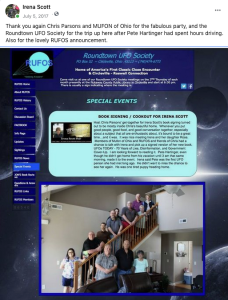 Government Harassment (I was told to record this possible harassment):
The photograph below shows the NASIC building taken in the secured area of Wright-Patterson AFB by the author. An article about a crashed UAP, by Leslie Kean And Ralph Blumenthal, has recently been a top news story (Intelligence Officials Say U.S. Has Retrieved Craft Of Non-Human Origin, June 2023).
They reported that a former intelligence official turned whistleblower has given Congress and the Intelligence Community Inspector General extensive classified information about a deeply covert programs that he says possess retrieved intact and partially intact craft of non-human origin. They also showed a photo of the National Air and Space Intelligence Center (NASIC) building, where much of the research took place and maybe even material storage.
This article, https://thedebrief.org/intelligence-officials-say-u-s-has-retrieved-non-human-craft/, tells that the whistleblower, David Charles Grusch, 36 said "The task force was established to investigate what were once called "unidentified flying objects," or UFOs, and are now officially called "unidentified anomalous phenomena," or UAPGrusch said the recoveries of partial fragments through and up to intact vehicles have been made for decades through the present day by the government, its allies, and defense contractors. Analysis has determined that the objects retrieved are "of exotic origin (non-human intelligence, whether extraterrestrial or unknown origin) based on the vehicle morphologies and material science testing and the possession of unique atomic arrangements and radiological signatures, he said."
They included a photo of the NASIC building.
"The majority of retrieved, foreign exotic materials have a prosaic terrestrial explanation and origin – but not all, and any number higher than zero in this category represents an undeniably significant statistical percentage."
Below is their photo of the NASIC building

I have photographed and been inside this building, below: In my photographs, it was bristling with monitors all around it. This building is also identified as the Blue Room building. Carey and Schmitt in their book, Inside the Real Area 51, reported that "In a reply from the FOIA analyst at Wright-Patterson AFB: '[T]he office of record for BLUE ROOM IS NASIC…'"
Bill Jones, Battelle contract officer, and I attended a UFO meeting in it, which we wrote up in The Ohio UFO Notebook.  I showed photos of the building, taken in the Wright-Patterson AFB secured area, and wrote about our visit in Sacred Corridors. This publication gave times, dates, publication references, who we were with, and some telling comments made during the meeting.
This first article may have resulted in possible government harassment.
The NASIC building, Blue Room, bristles with monitors although it is located in a secured area. My photo is below: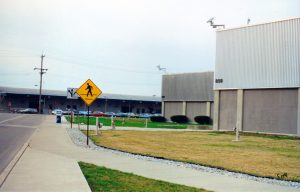 Possible Government Harassment
Although government harassment of UFO reporters is normally done in secret, this possible example of that to this author was public and filmed.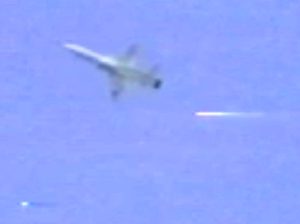 The publication of the photo of the NASIC and other secured buildings may have resulted in government harassment for the author. Generally, government harassment is secret and unrecorded, this may be the only recorded example. It was filmed and can be seen on YouTube: (https://youtu.be/JCLwCZePyEE)
In this action, a supersonic military jet T-38 divebombed the author's house a day or so after photos of the WPAFB secured area that the author took were published. It came so close and at such a low altitude that the whole house shook and so did barns and buildings around it.  It then pulled up over a public recreation area, with stunt and RC aircraft-very dangerous, circled back, and continued circling at a much higher altitude for some time. Discovered later that farm neighbors ran out of their houses.
Two neighbors saw it dive toward the house and their remarks were recorded while the aircraft was still circling.
On numerous radio networks
---
Documentaries
Alien Contact: The Pascagoula UFO Encounter
Calvin Parker and Charles Hickson were abducted by Aliens in 1973. The incident made headline news around the world yet like many reported UFO encounters skips into the ether and is forgotten over time. This case however, now takes the forefront decades later as new eyewitnesses have emerged to tell the story and confirm the horrifying encounter actually happened on that October night in Pascagoula, Mississippi. Hear the true story from the lone survivor, Calvin Parker, and the shocking details that have never before been exposed until now. This is the Alien abduction case that will change your mind about the Alien presence on Earth.
Consultants Dr. Irena Scott and Philip Mantle.
Available to download at:
Apple TV
https://tv.apple.com/…/al…/umc.cmc.1pqc1z9o595ji54zia39qoxra
iTunes
https://tv.apple.com/…/al…/umc.cmc.1pqc1z9o595ji54zia39qoxra
Google Play
https://play.google.com/…/Alien_Contact_The_Pascagoula_UFO_…
XBox
https://www.microsoft.com/…/alien-contact-the…/8d6kgwxn12pb…
Redbox
https://www.redbox.com/…/alien-contact-the-pascagoula-ufo-e…
Vudu
https://www.vudu.com/…/Alien-Contact-The-Pascagoula…/1326600
—
Philip Mantle
FLYING DISK PRESS
Tele: 07710883054